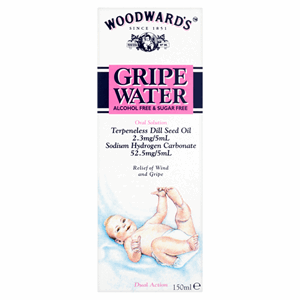 Woodward's Gripe Water 150ml
Alcohol & sugar free
Oral Solution
Relief of wind and gripe
Dual Action
---
Product Information:
Gripe Water Dual Action
Ingredients:
Each 5ml spoonful contains: Terpeneless Dill Seed Oil 2.3mg/5ml,Sodium Hydrogen Carbonate 52.5mg/5ml ,Also contains: E215, E217, E219,Sodium,Maltitol,See leaflet for further information,Alcohol Free,Sugar Free,Colour Free
Allergy Information:
Storage:
Storage type: Ambient
Discard the contents of this bottle 14 days after opening.
Do not store above 25°C.
Preparation and usage:
How to use Woodward's Gripe Water
Check that the cap-ring seal is not broken before first use.
Shake the bottle well.
Read the leaflet on the bottle carefully before use.
For Oral Use
Dosage:
Babies up to 1 month old: Not to be used.
1-6 months old: One 5ml spoonful.
6-12 months old: Two 5ml spoonfuls.
The doses may be given during or after each feed, up to 6 times in 24 hours.
If symptoms persist, medical advice should be sought.
In the unlikely event that you are unable to find the product you are looking for then please send us the details by clicking
here
.