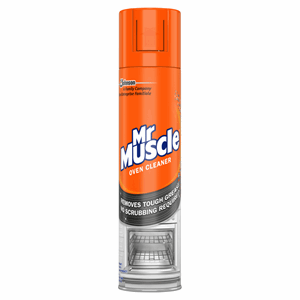 Mr. Muscle Oven Cleaner 300 ml
Specially designed powerful kitchen cleaner
An oven cleaner that does not require scrubbing
Keeps the oven clean from burnt on grease and food spills
---
Product Information:
Mr. Muscle Oven Cleaner 300 ml
Ingredients:
Contains <5% aliphatic hydrocarbons; polycarboxylates; anionic surfactants; perfume; limonene; methylchloroisothiazolinone; methylisothiazolinone
Allergy Information:
Storage:
Storage type: Ambient
Preparation and usage:
DIRECTION FOR USE: READ ENTIRE LABEL BEFORE REMOVING CAP. REFER TO OVEN MANUFACTURERS INSTRUCTIONS. FOR USE ON COLD OVENS. 1. WEAR RUBBER GLOVES AND PROTECT ARMS WHILE SPRAYING AND CLEANING. AVOID CONTACT WITH SKIN AND EYES AT ALL TIMES. IF SPLASHED; TO PREVENT BURNS; WASH IMMEDIATELY WITH PLENTY OF WATER FOR AT LEAST 20 MINUTES and seek medical advice. 2. Switch off electricity or turn off pilot light. Adequately protect the floor under the oven and all surrounding external surfaces. For easy application remove oven racks. 3. Shake can well before and during use. Hold can upright at all times. 4. Spray on internal surfaces including glass door from 20-30cm. DO NOT SPRAY ONTO OVEN TRIM; PILOT LIGHT OR HEATING ELEMENT. 5. Close oven door and allow to work for no more than 30 minutes. 6. Wearing gloves; wipe thoroughly with a damp cloth or sponge taking care to avoid contact with the skin and eyes. Beware of splashes and drips. If splashed; wash immediately with plenty of water for at least 20 minutes and seek medical advice. 7. Remember to ventilate oven before turning on electricity or relighting pilot light. 8. Repeat process for stubborn stains and over-soiled ovens if needed. 9. Replace Child-Resistant cap after use. For use on oven interior only. For use on cold ovens only. Do not use on self-cleaning ovens; microwaves ovens; hot ovens; exterior surfaces; chrome; aluminium; zinc; copper; plastic or polished/lacquered surfaces. Do not use outdoors.
In the unlikely event that you are unable to find the product you are looking for then please send us the details by clicking
here
.