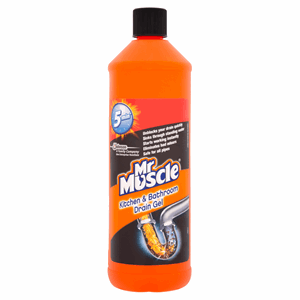 Mr Muscle Kitchen & Bathroom Drain Gel 1000ml
Deep cleaning gel is designed to tackle even the toughest pipe and drain blockages
Gets to work immediately and cleans drains in just five minutes
Clears slow running drains, unblocks hair and other household gunge
Unique formula powers through standing water to attack blockages at their source
Eliminates bad odours and leaves rooms smelling and feeling fresher
---
Product Information:
Kitchen & Bathroom Drain Gel
Unblocks your drain quickly
Sinks through standing water
Starts working instantly
Eliminates bad odours
Safe for all pipes

5 minute action*
Powers straight to the blockage
Clears tough and fully blocked sinks fast and effectively
For tougher clogs, leave to work for longer time
*Laboratory tested on bathroom clogs (hair and soap)
Mr Muscle is the leading brand when it comes to tackling tough cleaning jobs around the home. From disinfecting surfaces to removing burnt-on grease in the kitchen and limescale in the bathroom, we have it covered with five pioneering ranges of specialised products. Because of this, Mr Muscle is not just a household name - it's a household staple, proving time and again that we can cut through the grime. Since 1986, Mr Muscle has grown with and adapted to your needs, and for that reason we've become a trusted name recognised for our superior quality products. But our mission to eliminate the need for hard scrubbing nationwide is far from over … Let Mr Muscle do the work for you!
Ingredients:
Contains <5% Amphoteric Surfactants, <5% Chlorine based Bleaching Agents, Soap
Allergy Information:
Storage:
Storage type: Ambient
Preparation and usage:
Direction for Use
1. Pour half the contents of the bottle down the plughole. Mr Muscle® Kitchen & Bathroom Drain Gel powers through standing water, straight to the blockage.
2. Allow to work for 5 minutes. For tough clogs, leave to work longer.
3. Flush with hot water from the tap. To keep sinks and plugholes clean, use Mr Muscle ®Kitchen & Bathroom Drain Gel weekly.
To clear slow running drains and deep clean your entire pipe, use Mr Muscle® Kitchen & Bathroom Drain Foamer.
In the unlikely event that you are unable to find the product you are looking for then please send us the details by clicking
here
.