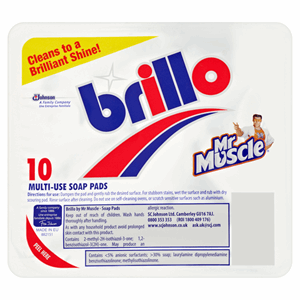 Mr Muscle Brillo 10 Multi-Use Soap Pads
Mr. Muscle Brillo Multi-Use Soap Pads
Unique cleaning soap loosens and removes tough stains
Suitable for use on all surfaces around the home
Can be used outside and in the garage
Not only removes dirt and stains but leaves a stunning shine
---
Product Information:
Soap Pads
Cleans to a brilliant shine!
Mr Muscle is the leading brand when it comes to tackling tough cleaning jobs around the home. From disinfecting surfaces to removing burnt-on grease in the kitchen and limescale in the bathroom, we have it covered with five pioneering ranges of specialised products. Because of this, Mr Muscle is not just a household name - it's a household staple, proving time and again that we can cut through the grime. Since 1986, Mr Muscle has grown with and adapted to your needs, and for that reason we've become a trusted name recognised for our superior quality products. But our mission to eliminate the need for hard scrubbing nationwide is far from over … Let Mr Muscle do the work for you!
Ingredients:
Contains <5% Anionic Surfactants; >30% Soap; Laurylamine Dipropylenediamine Benzisothiazolinone; Methylisothiazolinone
Allergy Information:
Storage:
Storage type: Ambient
Preparation and usage:
Directions for use: Dampen the pad and gently rub the desired surface. For stubborn stains, wet the surface and rub with dry scouring pad. Rinse surface after cleaning. Do not use on self-cleaning ovens, or scratch sensitive surfaces such as aluminium.
In the unlikely event that you are unable to find the product you are looking for then please send us the details by clicking
here
.