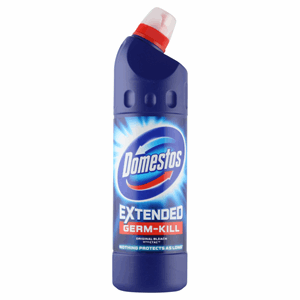 Domestos Bleach Original 750ml
Kills all known germs dead
Certified by RSPH - Royal Society for Public Health
---
Product Information:
Bleach Original
An A.I.S.E. voluntary sustainability initiative
www.cleanright.eu
Domestos bleach is also the only toilet cleaner to be accredited by The Royal Society for Public Health.
Ingredients:
Disinfectant: Sodium Hypochlorite 4.5g per 100g,<5%: Chlorine Based Bleaching Agent (Sodium Hypochlorite); Non-Ionic Surfactants; Cationic Surfactants; Soap; Perfume
Allergy Information:
Storage:
Storage type: Ambient
Keep in a cool place and store upright.
Keep only in the original container.
Preparation and usage:
Usage: Directions for Use
Child Resistant Cap
To open:
Push down on cap and turn anti-clockwise.
After use:
Replace cap and turn clockwise until tight.

Use Neat - Disinfection and Extended Germ Kill:
Toilets: Apply under rim (around 80ml) and leave overnight to kill germs and remove stains.
Kitchen/Bathroom drains: apply into drain to disinfect and eliminate unpleasant smells.
Sinks: apply into plugholes and overflow; leave for 5 minutes, then rinse thoroughly.

Use Dilute - Disinfection:
Floors and work surfaces - 120ml of Domestos per 5 litres of water. Do not use neat on floors.
Dishcloths and sponges - 60ml of Domestos in half bucket of water for soaking.

Use Dilute - Bleaching:
To bleach Whites: 20ml of Domestos per 5 litres of water, for overnight soaking. Rinse after use.
For septic tanks add 20ml.

Always use a plastic container - Suitable for use in septic tanks.
1 x Cap = 15ml

Use biocides safely. Always read the label and product information before use

Please read the label for use instructions and test on small inconspicuous area before use