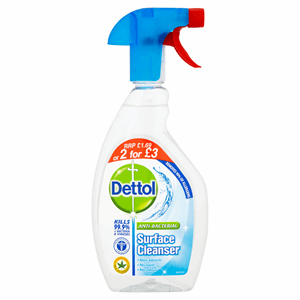 Dettol Anti-Bacterial Surface Cleanser 500ml
Kills 99.9% of bacteria & viruses
Trusted by doctors - to kill bacteria
The British Allergy Foundation - seal of approval
Kills E.coli, Salmonella, MRSA, Rotavirus, Flu virus (H1N1)
No bleach, no taint, no odour
Safe to use where food is prepared
Removes 90% of allergens
Suitable for: chopping boards, high chairs, changing mats, fridge, bins, kitchen sink, baths & tops and toilet seats
---
Product Information:
Our Home Our Planet
Minimise on paper towels or continue to use a clean reusable cloth and still get 99.9% bacteria kill.
www.ourhome-ourplanet.com

For ingredients: www.rbeuroinfo.com

www.sustainable-cleaning.com
If you like this product, why not also try
Dettol Cleansing Surface Wipes - Anti-bacterial wipes specially designed for surfaces.
Ingredients:
Per 100g contains 0.07g Benzalkonium Chloride,<5% Noionic Surfactant, Disinfectant and Perfume
Allergy Information:
Storage:
Storage type: Ambient
Do Not Freeze
Preparation and usage:
How to Use:
1. Turn red nozzle to On position.
2. Simply spray directly on to surface.
3. Wipe over with Clean damp cloth & allow to dry.
4. No need to rinse.
5. With electric equipment spray on to cloth before wiping.

Not suitable for: Windows, mirrors, fabrics, painted or varnished surfaces. Do not use with detergents or other disinfectants. Avoid contact with plastic baby bottles, which can crack when steam sterilised. Do not freeze.