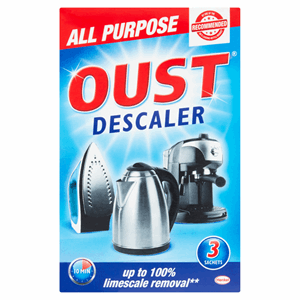 Oust All Purpose Descaler 3 x 25ml
---
Product Information:
All Purpose Descaler
If you need help or advice, visit www.henkel.co.uk or call us on 0845 4900176 in the UK or 01 4046514 in the ROI.
Because life's too short to spend it cleaning, Oust's range of products is designed to restore good-as-new shine and performance to your household appliance - no hassle, just great results.
Limescale doesn't just look unpleasant - it reduces performance which can ultimately shorten its life and are more costly to run. That's why Oust All Purpose Descaler is specially formulated to work quickly and easily to restore most small household appliances to their best in just 10 minutes; its super-fast is ideal for use in kettles, coffee machines, steam irons and shower heads.
It's important to descale appliances regularly - every 3 months in hard water areas and every 6 months in soft water areas.
Ingredients:
Allergy Information:
Storage:
Storage type: Ambient
Preparation and usage:
Directions (See sachet for full instructions)
Kettles (suitable for all types of kettle including plastic)
Half fill kettle with water and boil. Unplug and slowly add the content of 1 sachet. Leave for just 10 minutes and see how effectively Oust removes limescale.
Coffee Machines (Check manufacturer's instruction before use)
Half fill water reservoir and add the content of 1 sachet. Leave for 10 minutes and filter solution through.
Rinse afterwards with water.
Steam Irons (Check manufacturer's instructions before use)
Heat iron until it is hand hot and then unplug. Empty 1 sachet in a jug and pour into iron's water chamber, top up with water and set to steam. Leave for 10 minutes for solution to drain through steam holes.
Shower Heads
Detach shower head or sprinkler nozzle and place in a jug. Empty contents of 1 sachet into jug and add hot water. Leave for 10 minutes.
In the unlikely event that you are unable to find the product you are looking for then please send us the details by clicking
here
.